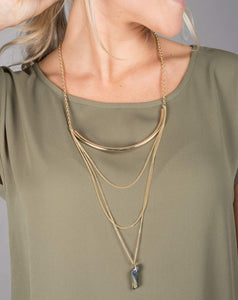 Description

A lovely necklace for any occasion! This 4 layer chain necklace is a beautiful array of golden strands. It falls down your chest in a colorful plated pendant made of titanium quartz, sure to steal the attention at your next event! 

Material: Gold plated brass
Lobster clasp
Chain 23" Long
Perfect Gift for Your Wife, Mother, Sisters or Friends on Birthday, Mother's Day or any special occasion!