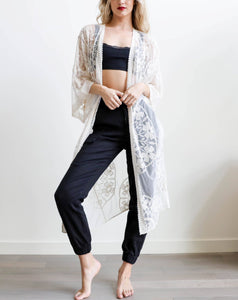 Description
This bohemian lace embroidered kimono pairs perfectly with skinnies and heels for a night out, cutoffs and a crop top at the beach, or even over your bikini for a little extra protection from the sun! 
Details
Machine Wash on Delicate, hang dry
Sizing
***One Size Fits Most! (S to 3X)***
Length: 44"
Sleeve Length: 15.25"
Sleeve Opening: 12"